Version: 2.10.0
Overview
This solution brings new operational capabilities to network administrators or virtual infrastructure administrators by providing complete visibility into virtual and physical networks.
One of the biggest operational concerns for IT professionals and Software Defined Data Center (SDDC) administrators is the lack of visibility between the virtual overlay and physical networking layers -- how to trace and troubleshoot connectivity issues. Lacking traceability leads to longer time to resolution, and unacceptable outage time frames for many customers.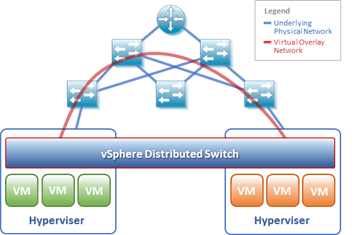 NetFlow Logic's V2P Network Visibility provides an easy and scalable way to analyze the massive volumes of network metadata generated by your routers, switches, next generation firewalls, load balancers (Cisco ASA, F5, Palo Alto Networks, etc.) – whether it is from a physical or virtual network, or both. This solution also provides end-to-end operational information about virtual and physical network traffic paths.
Monitor your end-to-end infrastructure to avoid service degradation or outages. Gain visibility into how network conversations traverse the virtual and physical network, including device interface health score, for efficient troubleshooting and planning.
The core of this solution is NetFlow Optimizer™ (NFO) and V2P Network Visibility Module.

NFO is a processing engine for network flow data (NetFlow, IPFIX, J-Flow, sFlow, etc.). It accepts network flow data from network devices (routers, switches, firewalls) and from virtual switches, such as VDS or VSS. V2P Network Visibility Module correlates virtual overlay flows with physical network flows, determines the health of the network, and pinpoints physical network devices and interfaces with the greatest impact on VMs and application performance.