Version: Next
Integration with VMware vRealize Log Insight
You can integrate NetFlow Optimizer with VMware vRealize Log Insight by sending data over UDP protocol in Syslog format.
NetFlow Logic Network Metrics Content Pack for VMware vRealize Log Insight is designed to deliver next generation, real-time, network resource management power to network and security analysts. NetFlow Optimizer™ ("NFO") is a middleware that processes massive amount of flows to stream summarized and meaningful syslog events into vR Log Insight. The events are available for immediate indexing and correlation. NetFlow Logic Network Metrics Content Pack provides visualization and reporting capabilities. The operators benefit from detailed visibility to their entire network and being able to address many IT use cases including bandwidth monitoring, capacity planning, congestion troubleshooting, and cyber security using threat intelligence lists.
This manual is intended for network and security analysts who use the Content Pack to monitor and investigate problems. For additional NFO information please visit www.netflowlogic.com.
For more information about NetFlow Optimizer Modules please see "NetFlow Optimizer User Guide".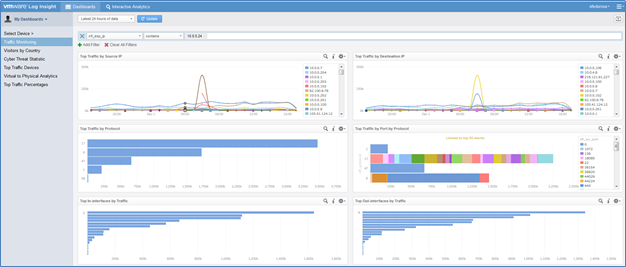 This dashboard relies on syslog messages generated by the following NFO Module packaged in Network